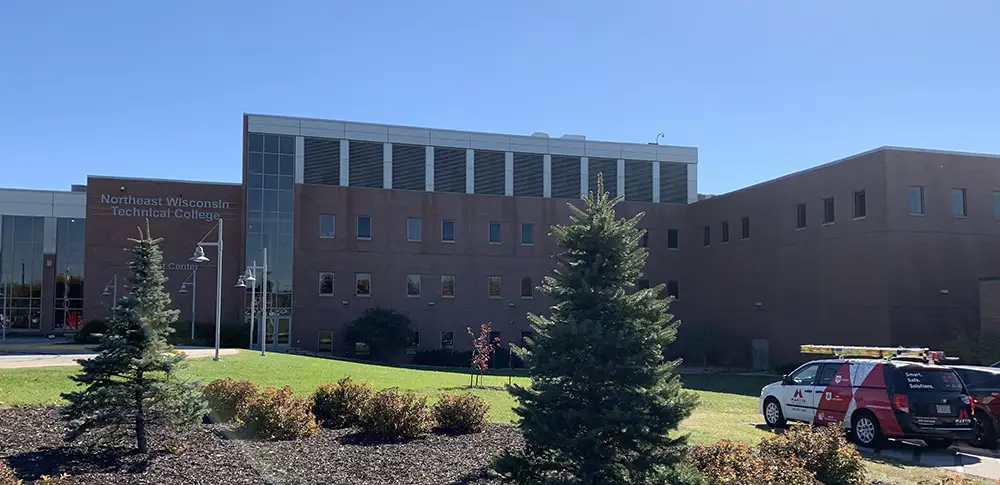 Martin Systems provides high-level support to NWTC and their Genetec security system
Northeast Wisconsin Technical College (NWTC) is a two-year technical college founded in 1912 and serves nearly 20,000 students annually. They offer a variety of programs, degrees, and credentials to support students in reaching their individual career goals and strengthening the region's economic vitality. With three main campuses and five regional centers, NWTC has locations throughout northeast Wisconsin.
Before Martin Systems support, NWTC had used Genetec unified physical security software across all locations for several years to manage their access control and video surveillance systems. NWTC was experiencing various system failures that they could not resolve independently, and their previous system integrator could not support them promptly and efficiently. When an issue arose that required contacting the other vendor, technicians with no parts in their inventory to fix the problem were often dispatched without scheduling with the NWTC facilities team, thus causing further delays. Additionally, if a component was under warranty and needed to be replaced, the integrator did not have a transparent process to manage RMA requests for replacement parts or devices from the manufacturer. While NWTC felt that Genetec was an excellent system, they needed a partner to support them with an effective and efficient long-term service model. They decided to open an RFP process to search for Wisconsin-based security system integrators certified in Genetec. The search led them to Wisconsin's Genetec leader – Martin Systems Inc.
"It was clear from the beginning that Martin Systems has a support process in place that is well-thought-out and creates a smooth customer experience. The relationship with Martin has been second to none. I would refer them to anyone who is considering putting in a Genetec system."
Chet Lamers
Director of Facilities
NWTC
"We often find that many integrators set up a system and walk away. These systems require long-term maintenance and support, and Martin is set up to provide that service model."
Manager of Sales Support and Engineering
Martin Systems, Inc.
When Martin Systems came on board, they worked with the NWTC team to discover what was working well and zero in on areas that needed attention. They found that the Genetec system was not engineered correctly from the start in many areas. Through in-depth discussions with the IT, facilities, and maintenance teams, Martin could identify where the system was failing; as it turned out, many of the door access edge controllers needed to have adequate power to allow the access control system to perform consistently. After Martin upgraded the power supplies, the issues resolved themselves. The Martin team also advised NWTC on products to plan for a future upgrade.
After addressing the issues, NWTC and Martin Systems are currently engaged in a proactive long-term support approach. First, NWTC is part of the Martin Systems MAP program – which stands for the Martin Advantage Plan. The MAP program includes the Genetec advantage subscription, which keeps their software up to date. It also includes two site visits yearly to update and optimize the security system and train the team on new functionality. And secondly, with Matin Systems, customer support is built into their operations; a Martin project manager and service manager meet with the NWTC team quarterly to go through the system to address any service issues and plan for future system needs. This meeting is in addition to any necessary service calls between meetings.
Once NWTC began working with Martin Systems, they realized that many of the issues they were experiencing with the Genetec system were not related to the system but rather to the level of expertise and customer support provided by their past system integrator.
If you are using a Genetec system or are considering it for the future, we would be happy to discuss how the Martin approach can support you long-term.