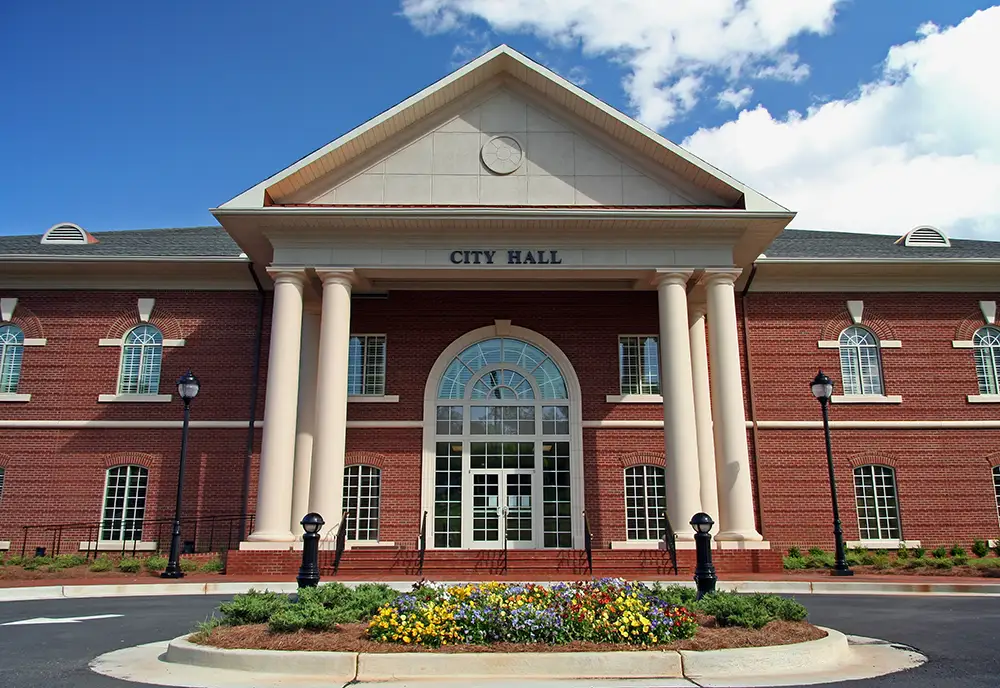 Public Safety & Security You Can Count On!
Physical Security, Life Safety and Fire Protection
We've all heard the saying, "you can't fight city hall." Martin Systems is committed to making sure bad actors don't take that tongue-in-cheek statement literally.
Martin Systems has protected municipalities in Wisconsin and the Upper Peninsula of Michigan since 1974. We understand the various and changing needs of local governments and why protection is essential for several reasons:
Safety and Security: Municipality buildings and employees are often responsible for providing essential services to the community, such as public safety, education, and infrastructure. Ensuring their safety and security is critical to maintaining these services' continuity and protecting the community.

Asset Protection: Local government buildings and assets, such as equipment and vehicles, are valuable resources that must be protected. Burglaries and fires can cause significant damage and the loss of these resources.

Legal and Financial Responsibility: Local governments have a legal and financial commitment to protect their employees, visitors, and assets. Failure to do so can result in lawsuits and financial losses.

Emergency Preparedness: Emergencies can happen anytime, and protecting local government buildings and employees from threats and emergencies is essential for ensuring a quick and effective response. Having emergency plans in place and regularly testing and practicing them can help minimize emergencies' impact on the community.

Reputation and Trust: Local government buildings and employees represent the community and the government's ability to serve and protect its citizens. Ensuring their safety and security can help to maintain the public's trust in the government and its ability to serve the community.
Physical Security for Local Government
Municipalities require physical security to protect their buildings, employees, and assets from threats such as theft, vandalism, and terrorism. Physical security solutions include security cameras, alarm systems, access control systems, gates, and 24/7 alarm monitoring. Physical security also helps to ensure the continuity of government operations and protects the community by maintaining a safe and secure environment for residents and visitors.
Martin Systems Physical Security Services
Security Camera Systems
Access Control
Intrusion Detection
Panic Alarms
24/7 Alarm Monitoring
Video Management
Gates & Turnstiles
Thermal Cameras
Inspections
Service
Fire Protection Systems for Local Government
Fire protection systems are essential for municipalities to ensure the safety and security of their buildings, employees, and visitors. These systems include fire alarms, fire suppression systems, and emergency lighting.
Fire alarms detect smoke or heat and alert building occupants to evacuate the building. They can also notify the fire department of an emergency, allowing faster response time. Fire suppression systems, such as sprinklers, help to extinguish fires and limit damage to the building. Emergency lighting provides illumination during power outages or other emergencies, making it easier for people to evacuate the building safely.
Local governments must ensure that their buildings are equipped with these fire protection systems and adequately maintained. This includes regular inspections, testing, and maintenance to ensure that the systems are in good working condition and ready to activate in case of a fire.
Additionally, local government should conduct fire drills regularly to ensure that all employees and visitors are familiar with the evacuation procedures. It's also essential to have a fire emergency plan outlining the procedures to be followed in a fire, including designated evacuation routes, assembly points, and procedures for accounting for employees and visitors.
Overall, fire protection systems play a critical role in ensuring the safety and security of local government buildings and the people inside them.
Martin Systems Fire Protection Services
Design & Engineering
Fire Alarm Installation
24/7 Alarm Monitoring
Testing & Inspection
Service
Automatic Scheduling Reminders
Fire Alarm Mass Notification Systems
Life Safety Systems for Local Government
Life safety systems are critical for municipalities to protect the health and safety of employees and visitors in their buildings. These systems include mass communication, cellular emergency communication, emergency signs, safe passage systems, and evacuation plans.
A local government needs a mass communication system to effectively share information and updates with its employees. This communication system can include emergency alerts and other important information, and some governments also use it for community engagement and outreach efforts. Emergency signage provides guidance for weather alerts and other emergencies, making it easier for people to evacuate the building safely.
Priority cellular communication is critical for elevator emergency phones and other essential communication systems needing 24/7 monitoring or access.
Evacuation plans are an important component of life safety systems, as they outline procedures for safely exiting the building in an emergency. These plans should be regularly reviewed, practiced, and available to all employees and visitors.
Local governments must ensure that their buildings are equipped with these life safety systems and correctly maintained to function as intended in an emergency. Life safety systems will not only help protect the health and safety of those in the building, but they can also protect the building and its contents and minimize business interruption.
Martin Systems Life Safety Services
Active Threat
Mass Notification
Area of Refuge
PA Systems
Crisis Management Software
Weather Alerts
Emergency Elevator Phone
Cellular Device Communications
Safe Passage Systems
Local Government Buildings and Areas that need Protection
Municipalities typically own a wide variety of buildings, including:
City halls or municipal buildings, which serve as the administrative headquarters for the local government

Police departments, fire and rescue, and Public Safety buildings which are used by public safety personnel

Libraries, which provide access to books and other resources to the community

Parks and recreation facilities, such as community centers and sports fields

Public works buildings, which house equipment and vehicles used for maintaining the infrastructure

Schools, which are owned and operated by local governments

Courthouses, which are used by the judiciary

Emergency management centers, which are used to coordinate responses to natural disasters and other emergencies

Parking garages and other parking facilities
These are just a few examples that can vary based on the local government's jurisdiction. Some local governments own other properties, such as airports, hospitals, and utilities.
Our Local Government Testimonials and Reviews
See what are Local Government customers have to say!
"The two technicians who came out were very friendly and extremely knowledgeable about our system. They were able to make some upgrades to our system and troubleshoot a problem in little to no time. Very satisfied with Martin Systems."
Jim
Mayville Police Department
Mayville, WI
✪✪✪✪✪
"Very happy with the work that Martin has performed on this project (4502 Milwaukee St). This project was hard across the board and your staff did a great job to get it done for us. Much appreciated."
Jon
City of Madison
Madison, WI
✪✪✪✪✪
Your overall Martin experience?
Excellent ✪✪✪✪✪
Sales & Scheduling Experience: 
Excellent
Did our proposal, installation and solution meet all your desired needs? 
Yes
Installation & Training Experience: 
Excellent
Jeff
Fond du Lac County Highway Department
Fond du Lac, WI
✪✪✪✪✪
"14899 County Road T – upgrade, new key fobs / training , all and all we are very happy, everyone is very helpful, and we appreciate the great customer service!"
Town of Doty
Doty, WI
✪✪✪✪✪
"The Service Techs that came out were fantastic. Very nice to work with, and they did their job and did it well. They were trained obviously very well at the installation of the camera systems we needed and made suggestions to better meet our needs. We will continue to use Martin Systems as long as they are in the area. They have been our provider of security cameras inside and now outside our building for many years. They get a 5 star rating from us here."
Jeff
Gillett Area Ambulance Service Inc
Gillett, WI
✪✪✪✪✪
"This is the best service tech I have ever worked with and I am a service tech!!!"
Curt
Brown County Library – Weyers-Hilliard Branch
Green Bay, WI
✪✪✪✪✪