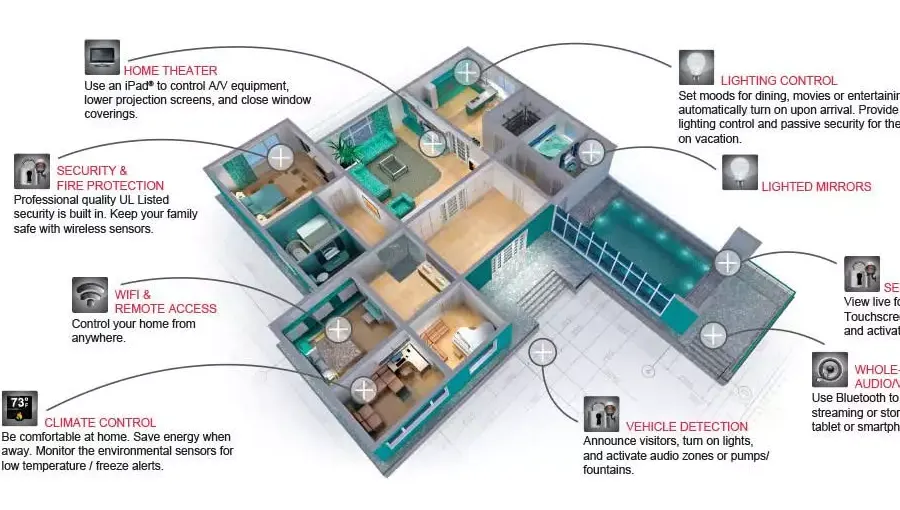 Home Automation System and Installation
At Martin Systems, we offer end-to-end services for the design and installation of your home automation system. We are committed to making your life simpler, safer, and more enjoyable with our automated solutions. Here's how we can help:
Initial Consultation
We begin with a comprehensive consultation to understand your home automation needs. Whether you are interested in whole-home automation or specific systems such as smart lighting, climate control, or home security, we want to know. Our experienced consultants will guide you through the various options and help you make informed decisions that match your lifestyle and budget.
Design
Our team of expert designers will create a customised plan for your home automation system. We take into account every detail, from the architectural layout of your home to the placement of each device, to ensure an efficient and aesthetically pleasing solution.
Installation
Our trained technicians will handle the complete installation of your home automation system. With attention to detail and respect for your home, we work efficiently to minimize disruption. We use high-quality materials and industry-leading techniques to ensure your system performs optimally and reliably for years to come.
Testing & Demonstration
Once your home automation system is installed, we thoroughly test every component to ensure it's working correctly. We'll then walk you through how to operate the system, answering any questions you may have, and ensure you're comfortable with every feature.
After-Sales Support
We understand that getting used to a new system can take some time, and you might have questions or issues after installation. That's why we provide exceptional after-sales support. Our technicians are always just a phone call away, ready to assist you with any issues or provide additional training if required.
Upgrade & Maintenance
We also provide regular maintenance services and upgrades to ensure your home automation system stays up-to-date with the latest technology and continues to serve you effectively and efficiently.
Martin Systems will help you take the guess work out of operating your home electronics with a customized home automation control system.
Touch Screen Control
Our control systems integrate security, intelligent lighting, and climate, surround sound theaters, multi-room audio, HD video servers and electric blinds or curtains. This may sound intricate and complex, but Martin Systems will provide you with the finest, simplified control via customized touch-screen remote controls. We aim to dispose of the unseemly clutter of light-switches, thermostats and keypads from your walls, and replace them with single, elegant user interfaces.
Automation
Tasks automated to accommodate your lifestyle… Lights triggered by movement… Blinds descending with the summer sun… Music volume automatically adjusts when the telephone rings or the door bell is activated. Your intrusion alarm can also send a text message to your mobile phone if triggered.
Systems Integration
Our systems allow you to monitor and control all aspects of your Smart Home via your home computer or your smartphone, tablet, and even a non-smart cell phone. Just call your Smart Home from your cell phone and enter a code to change the climate, ensuring it is always the perfect temperature on your return.
We offer products from a variety of manufacturers including Control4 and HAI (Leviton), and we are experts at systems integration.  We offer Home Automation installation services with our certified home automation installers.