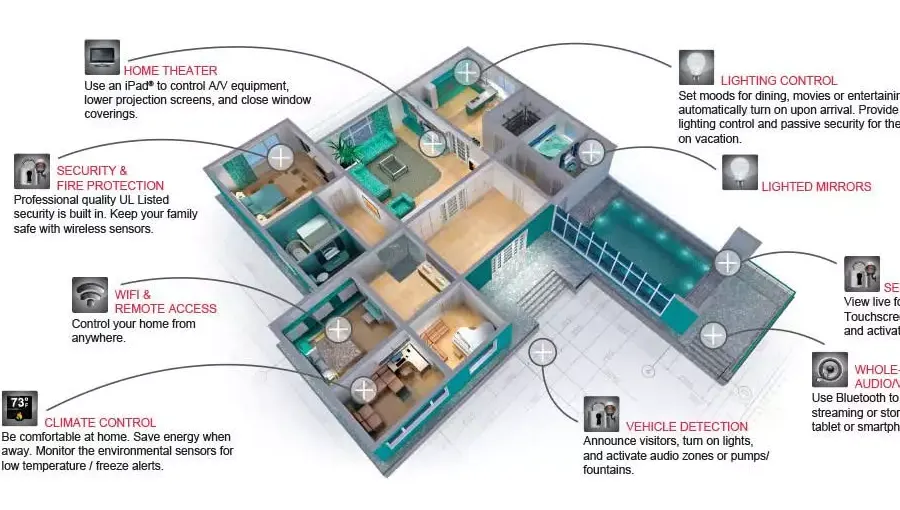 Martin Systems will help you take the guess work out of operating your home electronics with a customized home automation control system.
Touch Screen Control
Our control systems integrate security, intelligent lighting, and climate, surround sound theaters, multi-room audio, HD video servers and electric blinds or curtains. This may sound intricate and complex, but Martin Systems will provide you with the finest, simplified control via customized touch-screen remote controls. We aim to dispose of the unseemly clutter of light-switches, thermostats and keypads from your walls, and replace them with single, elegant user interfaces.
Automation
Tasks automated to accommodate your lifestyle… Lights triggered by movement… Blinds descending with the summer sun… Music volume automatically adjusts when the telephone rings or the door bell is activated. Your intrusion alarm can also send a text message to your mobile phone if triggered.
Systems Integration
Our systems allow you to monitor and control all aspects of your Smart Home via your home computer or your smartphone, tablet, and even a non-smart cell phone. Just call your Smart Home from your cell phone and enter a code to change the climate, ensuring it is always the perfect temperature on your return.
We offer products from a variety of manufacturers including Control4 and HAI (Leviton), and we are experts at systems integration.  We offer Home Automation installation services with our certified home automation installers.