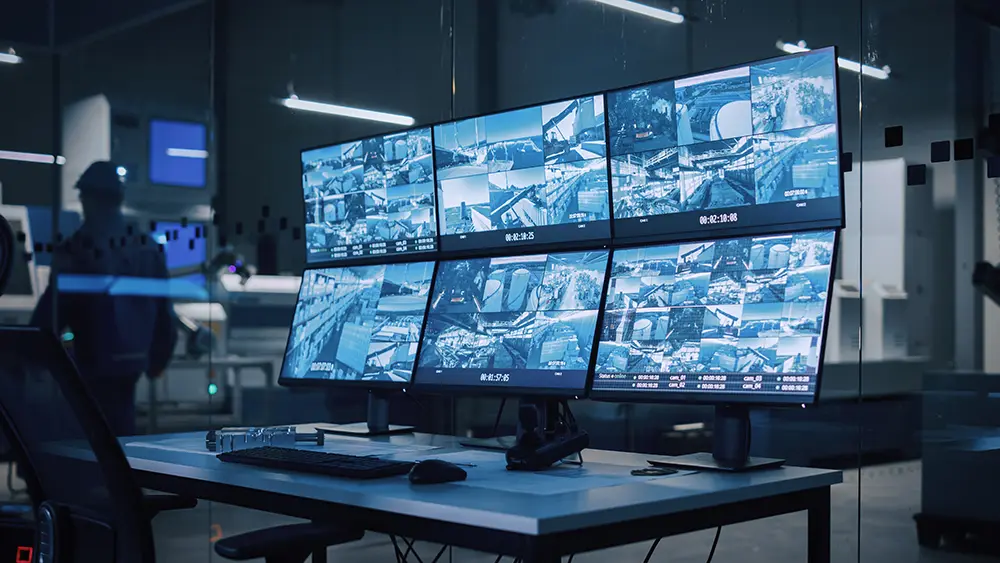 Physical Security Solutions for Your Business
Martin Systems, a physical security company, knows today's businesses face many physical security threats, from theft and vandalism to natural disasters and terrorism. Physical security solutions are designed to protect your business and its assets by preventing, deterring, and mitigating these threats.
Here are some of the most effective physical security solutions for Wisconsin's businesses:
Access control systems: These systems control who has access to your business premises and when. They can range from simple key-based systems to advanced biometric systems that use fingerprints or facial recognition technology.

Surveillance cameras: Installing surveillance cameras can help you monitor your business premises and deter potential intruders. You can choose from indoor and outdoor cameras, night vision cameras, and cameras that can pan, tilt, and zoom.
Alarms and security systems: Alarms and security systems can alert you and law enforcement in the event of a break-in or other security breach. They can also be linked to a monitoring service that can dispatch the police or other emergency services if necessary.

Physical barriers: Physical barriers, such as gates, turnstiles, fences, and walls, can make it harder for intruders to access your business premises. They can also be combined with other security measures, such as cameras and alarms, to provide a comprehensive security solution.

Lighting: Proper lighting can deter intruders and make it easier to see what's happening on your business premises. Consider installing motion-activated lights that can be programmed to turn on when they detect movement.

Secure storage: Secure storage solutions, such as safes and lockers, can help protect valuable assets and sensitive information.

Emergency preparedness: Developing an emergency plan can help you respond quickly and effectively to a natural disaster, fire, or other emergencies.
In conclusion, physical security solutions are essential for protecting your business from physical threats. Implementing the right mix of measures ensures that your business remains secure and your assets are protected. Consider seeking the help of a professional security consultant like Martin Systems to help you determine the best physical security solutions for your business.
Look What Our Physical Security Customers Have to Say!
"For an install of this size it went very smooth. Good communication and planning ahead of time."
Jason
Krueger International
Green Bay, WI
✪✪✪✪✪
"They did a great job scheduling and the team that showed up were well trained and experienced."
Michael
Nexus Solutions
Milwaukee, WI
✪✪✪✪✪
"Very happy with the work that Martin has performed on this project (4502 Milwaukee St). This project was hard across the board and your staff did a great job to get it done for us. Much appreciated."
Jon
City of Madison
Madison, WI
✪✪✪✪✪
"We use you often for our projects. Always professional, always on-time, always completed project."
Robert
Oshkosh Area School District
Oshkosh, WI
✪✪✪✪✪
"The staff at Martin Systems was quick to address our problem and even moved up our annual inspection to see if the issue could be resolved during the inspection process. Very much appreciated!"
Jeremy
First Federal Bank
Brookfield, WI
✪✪✪✪✪