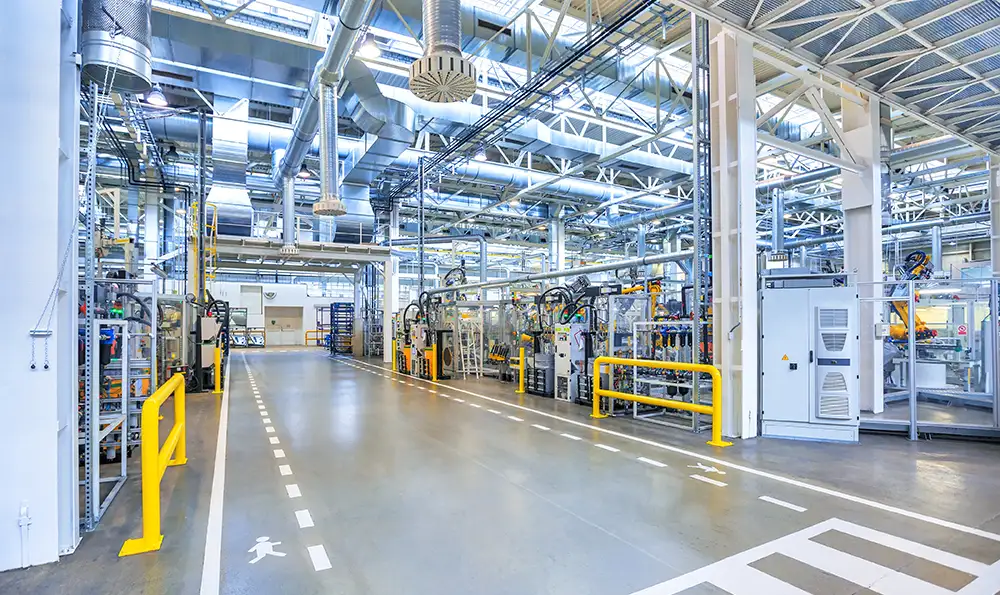 Your Manufacturing Plant Safety Is Our Expertise
Safety and security are top priorities for manufacturing facilities and factories worldwide. In the face of fire hazards and security concerns, it is crucial to have a robust and efficient fire alarm protection system and security system in place. At Martin Systems, we pride ourselves on being industry-leading experts in fire alarm protection and security for manufacturing plants, factories, foundries, warehouses, and food plants.
Fire Protection – We outline industrial plants' unique challenges and showcase how our state-of-the-art solutions help ensure their safety and efficiency.
Security – We discuss Industrial facilities' unique security challenges and how our comprehensive security solutions can help protect your facility and ensure business continuity.
Fire Protection Solutions for your Industrial Facility
Unique Fire Alarm Challenges in Manufacturing Facilities
Combustible Materials
Manufacturing facilities often deal with a wide range of highly combustible materials. Whether it's wood, chemicals, or textiles, the presence of these materials can significantly increase the risk of fire hazards.
Large Spaces
Factories and manufacturing facilities typically cover vast areas, making it difficult for a single fire alarm system to cover every corner efficiently. The ample space makes it crucial to have a tailored and scalable solution.
High Foot Traffic
Manufacturing facilities are known for having high foot traffic, making having a reliable fire alarm system even more critical. Evacuation plans should be straightforward and efficient to avoid chaos in an emergency.
Our Expert Fire Protection Solutions
Customized Fire Alarm System Design: Understanding that every facility is unique, our team of experts works closely with you to design a fire alarm system tailored to your facility's needs. We consider factors like size, layout, and type of materials handled to ensure maximum safety and efficiency.

Advanced Fire Detection Technology: We use the latest fire detection technology, including smoke detectors, heat detectors, and flame detectors, to quickly and accurately identify fire hazards in your facility. Our advanced systems can detect the early signs of a fire, allowing you to take immediate action to minimize damage.

Integrated Security Systems: Our fire alarm protection systems can be integrated with other security systems like access control and surveillance cameras. This holistic approach ensures comprehensive safety and security for your manufacturing facility.

Regular Maintenance and Inspection: Our commitment to your safety doesn't end with installing your fire alarm system. We provide routine maintenance and inspection services to ensure your system remains in optimal condition, ready to respond to any emergency.

Training and Support: We understand the importance of a well-trained team in managing fire safety. Our team of experts provides comprehensive training and ongoing support to your staff, ensuring they are well-equipped to handle emergencies and maintain your fire alarm system effectively.
At Martin Systems, we strive to provide unparalleled fire alarm protection and security solutions for manufacturing facilities and factories. Our expert team, advanced technology, and commitment to your safety make us the trusted partner for all your fire protection needs. Don't compromise on safety – contact us today to learn how we can help protect your facility and staff from fire hazards.
Security Solutions for your Manufacturing Facility
In today's increasingly connected and globalized world, the importance of robust physical security measures in manufacturing facilities and factories cannot be overstated. Martin Systems takes pride in being industry-leading experts in providing cutting-edge physical security solutions for manufacturing facilities and factories, ensuring the safety of your assets, staff, and operations.
Unique Challenges in Manufacturing Facilities and Factories
Theft and Vandalism: Manufacturing plants, food plants, foundries, warehouses, and factories are often targeted by thieves and vandals due to the valuable assets and equipment they house. These acts can cause significant financial losses and disrupt operations.

Unauthorized Access: Manufacturing facilities may contain sensitive information, intellectual property, or hazardous materials, making it crucial to prevent unauthorized access.

Large Premises: Factories and manufacturing facilities typically cover vast areas with multiple entry points, making monitoring and securing every corner challenging.

Workplace Safety: Ensuring the safety of employees in manufacturing facilities is paramount. Proper security measures can help prevent accidents and create a safe working environment.
Our Expert Security Solutions
Customized Security Assessments: We begin by conducting a thorough security assessment of your facility, considering factors like size, layout, and the nature of your operations. The review enables us to tailor our security solutions to your needs and challenges.

Access Control Systems: Our advanced access control systems restrict unauthorized entry and ensure that only authorized personnel can access specific areas of your facility. We offer a range of access control options, including key cards, biometrics, and mobile authentication.

Video Surveillance: We provide state-of-the-art video surveillance solutions, including high-definition cameras, advanced analytics, and remote monitoring capabilities. Our surveillance systems allow you to monitor your industrial facility in real-time, ensuring prompt response to security breaches or incidents.

Intrusion Detection: Our intrusion detection systems are designed to detect unauthorized entry or suspicious activity around your factory. Using a combination of sensors, alarms, and notifications, we provide you with the tools to respond quickly and effectively to potential security threats.

Perimeter Security: We understand the importance of securing your manufacuring plants perimeter. Our perimeter security solutions include fencing, gates, barriers, and advanced intrusion detection systems, ensuring that your facility is protected from potential intruders.

Employee Training and Security Awareness: A well-trained workforce is critical to maintaining a secure facility. We provide comprehensive employee systems training to educate your staff on the importance of physical security and best practices to prevent incidents.
Martin Systems is dedicated to providing expert physical security solutions for manufacturing facilities and factories. Our comprehensive approach, cutting-edge technology, and commitment to your safety make us the trusted partner for all your physical security needs. Don't leave your facility's security to chance – contact us today to learn how we can help protect your assets and ensure operational continuity.
"Salesman had the correct hardware and software for the application the 1st time.
Quote was quick and clean.
Install went smooth and the Martin technicians were willing to do what was needed to complete project while on site."
"I called and asked about a certain technology and they provided a quote. I had installation within a few weeks."
"For an install of this size it went very smooth. Good communication and planning ahead of time."
"It was a very smooth transition from planning to purchase to installation to using the system."
"The cameras work great and the installers did a great job."
Your overall Martin experience?
Excellent ✪✪✪✪✪
Sales & Scheduling Experience
Excellent
Did our proposal, installation and solution meet all your desired needs?
Yes
Installation & Training Experience
Excellent